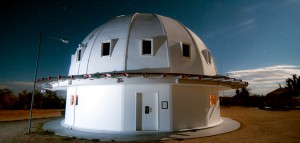 Optionally, on the final day of the workshop, for an additional charge of $40, you may opt to join the group for a sound bath at the local attraction called the Integratron!
What is the Integratron, you ask?  Well, it's a historical structure — a resonant tabernacle and energy machine sited on a powerful geomagnetic vortex in the magical Mojave Desert.  Some people call it the ideal fusion of Art, Science and Magic!
Our group has reserved a private Sound Bath!  This is an unforgettable sound experience for those who seek deep relaxation, rejuvenation, and introspection. All Sound Baths are 60-minute sonic healing sessions that consist of 25 minutes of crystal bowls played live and the balance of the hour to integrate the sound and relax in the sound chamber to recorded music.
You will be resting comfortably in the deeply resonant, multi-wave sound chamber while a sequence of quartz crystal singing bowls are played, each one keyed to the energy centers or chakras of the body, where sound is nutrition for the nervous system. The results are waves of peace, heightened awareness, and relaxation of the mind and body.
The Integratron is located in Landers, California, 20 miles north of Joshua Tree National Park. Its creator, George Van Tassel (1920-1978), claimed that the structure is based on the design of Moses' Tabernacle, the writings of Nikola Tesla and telepathic directions from extraterrestrials. This one-of-a-kind 38-foot high, 55-foot diameter, all wood dome was designed to be an electrostatic generator for the purpose of rejuvenation and time travel.
The location of the Integratron is an essential part of its functioning. It was built on an intersection of powerful geomagnetic forces that, when focused by the unique geometry of the building, concentrate and amplify the earth's magnetic field. Magnetometers read a significant spike in the earth's magnetic field in the center of the Integratron.